When it comes to hiring staff, your company culture matters most. Sure, competitive salary packages will attract candidates too, but your company culture is what attracts quality candidates – and more importantly, what will keep them there for the long haul (or keep them on the lookout for the next opportunity). And what's the most effective way to showcase your amazing company culture? Investing in a quality company culture video that presents your business in the very best light.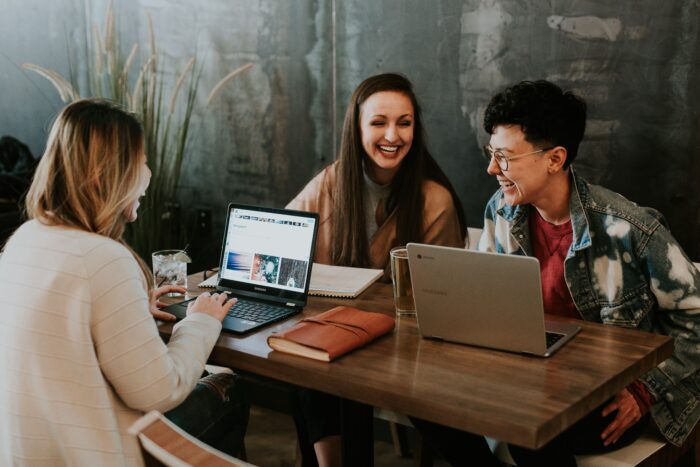 So, why are recruitment videos so important? Company culture videos set the scene for what it's like to work at your company and why your employees are so happy to be there. This helps attract applicants who are more aligned with your culture and values – ultimately leading to stronger employee engagement, reduced staff turnover and higher productivity.

They also double as excellent branding and recruitment marketing assets that allow potential and future candidates to build an emotional connection to your businesses culture. When done right, they'll paint a vivid (and positive) picture of what it's like to work at your company, via happy staff anecdotes and immersive office imagery (and surroundings – if worthy of being captured).

Here's some top tips about how to create a killer company culture video…
Checklist.
Creating a great recruitment video doesn't have to be overcomplicated. In general, when it comes to company culture videos, people generally want to know these 3 key things…
What your workplace culture is like (the people/your values/work ethic and work life balance /general vibe/professional development opportunities).
The types of perks and benefits you offer.
How current employees feel about working at your company.
Our top three expert tips to create a killer company culture video…

1. Be yourself – and be open about who you are.
What makes your business unique? Is it your perks? Your it-factor? Are you innovative or cutting edge? There's no one size fits all when it comes to company culture – and rather than emulating others, to attract the right people, be upfront about who you are from the outset. What do you stand for as a company? What are your values? This will ensure you attract employees who are on the same page, and well-aligned candidates are more likely to stick around once awarded the job.
2. Let your employees do the talking
We find the most effective and authentic company story videos tell the story straight from the horses' (or rather, employees') mouths. Try to use a range of different roles to help paint a more diverse picture of the types of roles available. And of course, not everyone will be comfortable speaking on camera, so try to round up your most confident employees, prep them in advance with a short set of questions (though ensure they don't come off as overly rehearsed). In the editing phase, focus on short grabs from various employees intersected with each other, rather than large blocks of dialogue. This achieves two things: a more fast-paced/engaging edit, and also gives you the opportunity to grab the strongest bits from each answer (relieving some of the pressure of your employees when it comes to nailing their answers). Also, lighten up a little, people love to laugh – so be open to including some lighthearted moments as an ice-breaker if appropriate. It'll also help to paint your company as a fun place to work, where people don't take themselves too seriously.
3. Show, don't tell
The beauty of video is you can let your visuals do a lot of the talking. If your space is vibrant and photogenic – show it. Not all workspaces are, in which case you may want to feature more heavily on talking head/interview content, though if your workplace is inspiring, let those visuals do the heavy lifting. Let your potential employees visualise themselves coming to work everyday. If your business is located in a thriving/cool neighbourhood or area, show that too. This injects some colour and additional b-roll opportunities and is a great workaround when your actual office space isn't as visually inspiring.

Here's an example of a killer company culture video that ticks all these boxes and then some…
Need help creating a quality recruitment/company culture video for your business? Contact the We Know Video team today via the Contact Us button, we'd be happy to assist!