Instagram's answer to TikTok has now been hailed as the company's 'fastest-growing content format by far,' and the biggest contributor to growth on both Instagram and Facebook over the past year. So, when it comes to your own marketing strategy, should you throw your hat in the Reels ring? We share some key insights to help you decide if the format is a fit for you…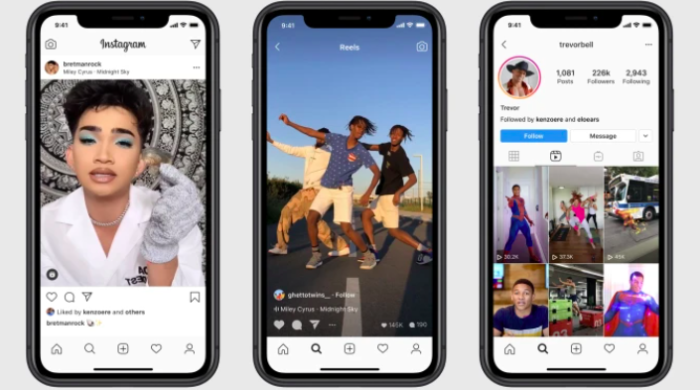 What's New in Reels Advertising? Instagram Overlay Ads
While it's still early days when it comes to reels monetisation, Instagram is currently testing and implementing its new Overlay Ads format. You'll find Overlay ads on top of a Facebook Reel in the form of a banner or sticker. Banner ads appear as a semi-transparent overlay at the bottom of a Facebook Reel (so viewers can watch the ad without interrupting the Reels content they're watching at the time) whereas sticker ads are a static image ad that can be placed by a creator anywhere within their reel. If an overlay ad is included in a reel, the content owner will earn a portion of the advertising revenue.
Reels currently offers amplified content reach (for free!)
Social platforms such as Instagram boost new features in order to encourage users to adopt the new tech. Instagram is currently doing this with Reels, so right now is the time to be uploading your videos to Reels to take advantage of the favourable (and importantly free!) amplified exposure opportunities.
Reels = more engagement than traditional IG videos.
According to Conviva, Instagram Reels generate more engagement when compared to traditional Instagram videos. It analysed data from all teams within the NBA, NHL, NFL,and MLB, comparing their average number of engagements per Reel to their traditional videos. The results showed that Reels videos had up to 67% more engagement across all leagues (particularly NFL) than traditional IG videos.
70% of marketers plan to increase video activity on Instagram
Following a survey of 5,243 marketers by Marketing Charts, a huge 70% said they plan on increasing their marketing activities on Instagram – the highest among all social platforms (compared to only 19% who said they'd increase activity on rival platform TikTok.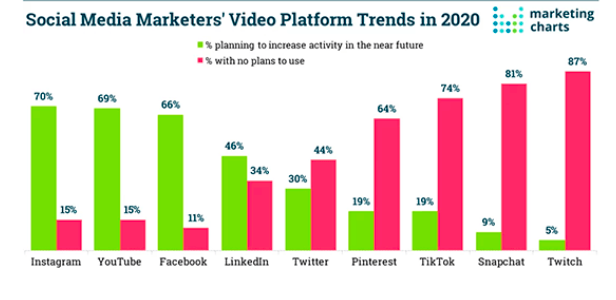 Who is your audience? Most Instagram users are under the age of 35
Statista data from July 2021 shows the majority of Instagram users around the world are under the age of 35. 32.1% of Instagram users are aged between 25 and 24, while 29.9% are between 18 and 24 years old. Only 16.3% of users are 35 to 44, while 8.1% represent the 45 to 54 demographic and only 3.8% are between 55 and 64 years old. This is an important consideration when deciding to advertise using IG Reels (and IG in general).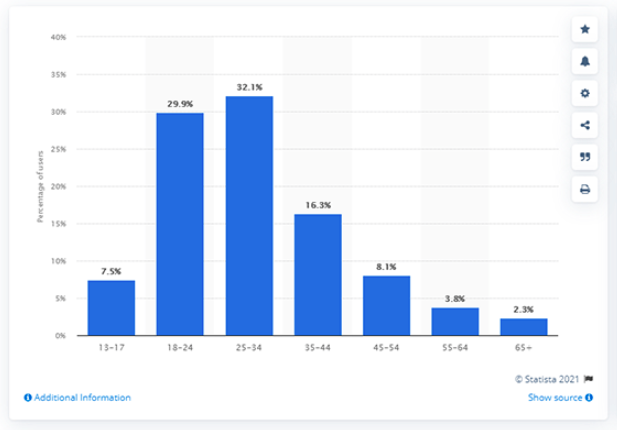 Instagram prioritises videos over static images
IG's big boss himself, Adam Mosseri, recently declared that Instagram is no longer a "photo-sharing app" (as it was once described). With the undisputed rise of video, the company is making big changes to focus more on the video format to compete with the popularity of other platform rivals TikTok and the brand new YouTube (Shorts). Other Facebook apps are also cashing in on the rise of video by testing new ad strategies including the ability to play full-screen videos even from accounts that a user doesn't follow.
Instagram Reels = better platform for brands than TikTok.
While influencers may favour TikTok right now, Reels is believed to be a better fit for brands.
According to Forbes, reasons include IG's multiple platform extensions from IG stories to IGTV – as well as the platform's more mature audience demographic (as mentioned previously). Instagram is also fast implementing more advertising formats across Reels than TikTok currently offers, in their race to monetise the feature. Also, brands and social media managers can take advantage of the fact IG Reels can be scheduled in advance via the use of third-party tools (however this is not fully automated due to a limitation in IG's API, and does require app reminders).

Interested in hearing more video production tips and tricks? Be sure to check out our blog at We Know Video video production agency for more expert insights around marketing your brand or business using the power of video.